Built his first marketplace in the year 1999
In the world of online marketplace development, the story of Aleks, Founder and CEO of randevu.tech, begins at late 1999. As a software architect and with his software agency, he developed his first B2C marketplace in the automotive industry. It was a chilean-based marketplace for used cars.
Over the next 15 years, Aleks continued to grow his reputation as a seasoned technology leader by running his own IT consultancy company in Chile. Through this agency, he partnered with medium businesses as well as major enterprises, offering tailored solutions for a wide range of industries. It was during these years that Aleks accumulated substantial experience in developing large-scale software solutions, catering to his enterprise clients' different needs.
Developed one the hottest German fintechs which got acquired for 200 million Euro
In 2015 Aleks moved back from Chile to Europe – this time living between Berlin, Germany and Belgrade, Serbia. While running remotely his software agency in Chile, Aleks sought new challenges which he found in the world of startups.
He co-founded Penta, an innovative digital bank serving business customers in Germany. As CTO, he developed software from scratch, built a tech team and scaled the operations to serve thousands of satisfied customers. In his first two years, he built a team of 15 developers and over 5000 happy customers. Later, Penta went from becoming one of German's top Fintech startups to watch by Fintech Magazine to being acquired by Qonto for 200 million EUR.
Following the success of Penta, Aleks was presented with yet another opportunity: developing a marketplace business for off-market real estate vertical. However, as he delved into the project, he realised that he was facing some of the same technical challenges and limitations while building marketplace tech as freelancer and with his agency. The existing and affordable solutions on the market were white-label solutions that are not developer-first, i.e. they are not designed to be modified and extended. This led to no other way around of building everything from scratch and reinventing the wheel instead of focusing on the business itself.
Frustrations sparked the idea developing innovative marketplace software
Aleks first wanted to understand if his peers were facing the same challenges when developing a marketplace. He contacted 30+ marketplace founders and marketplace builders to understand their tech and business challenges. This journey clarified pain points of developers and even more illuminated the pain points of the business stakeholders:
The enterprise solutions were very expensive
The existing solutions were not flexible which led to hiring a software agency or building in-house tech team to develop everything from scratch
Building from scratch was resource-demanding (team & money) and time-consuming (very slow) which slowed time-to-market and decreased the budget for business development
Such solutions put in danger business momentum due to failure of scaling when required and very flow peace of rolling out new features after the initial go-live
These pain points didn't only prevent some companies from developing a marketplace solution but also put projects at risk.
In search of a solution, Aleks turned to his friend Filip, who built his own marketplace business and at the time was developing SAP's B2B marketplace. Filip wasn't only working with an enterprise solution to build marketplaces but also experienced the pain of building the marketplace from scratch with his own company. This made him deeply understand the technical problems but also how they impact the business itself. Filip isn't just a regular tech guy, he is also an innovator who has obtained several patents for his innovative work on some e-commerce solutions.
Sharing a mutual frustration over the limitations of the existing marketplace platforms, they decided to team up and create their own solution. This marked the inception of randevu.tech, a company dedicated to providing developer-first marketplace technology that is by design made for extensibility. They set the vision: "Eliminate the technological burdens for marketplace businesses".
A bit later, I joined the team as the third co-founder, complementing the two tech experts with my business background and expertise. I have also founded and led a Berlin-based marketplace startup before and not surprisingly felt the same pain of developing a marketplace from scratch.
"When I first understood the pain points Aleks and Filip are solving, it instantly resonated with me as I have faced the them in my previous company myself." Shuhrat Ashurov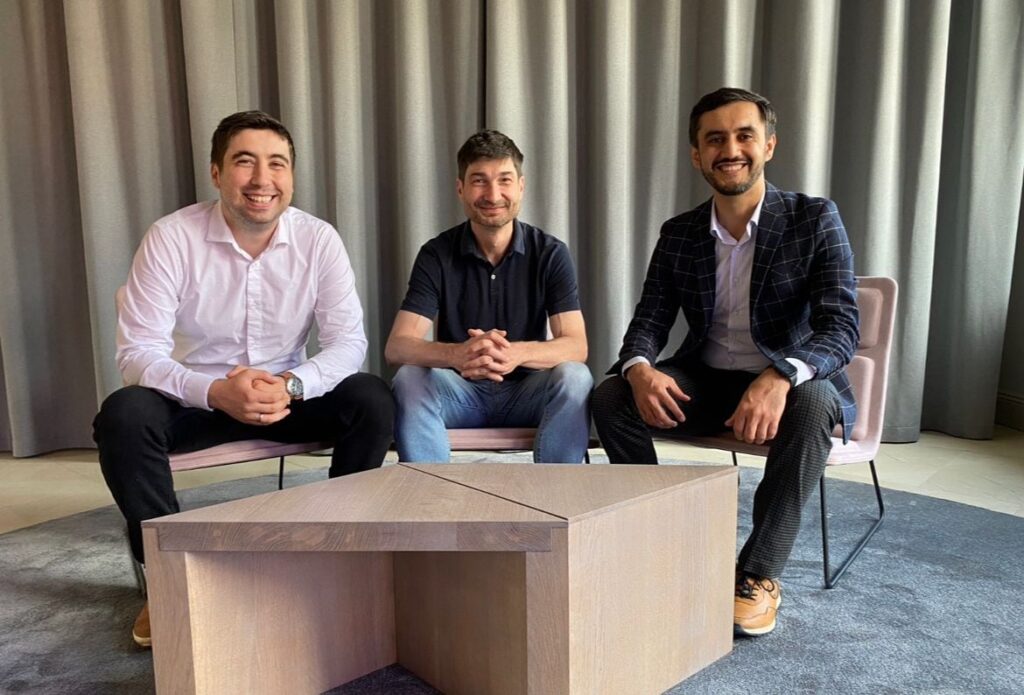 First investment and expanding the team
The potential of randevu caught the attention of Antler, a global VC backing the world's most driven founders. Recognizing the value of randevu's vision, Antler selected them as one of their first investments in Berlin.
Later, two well-known investment funds from Serbia, ICT Hub Venture & TS Ventures Fund joined forces to support us further in our journey and growth!
Under the guidance and support of our investors, the randevu team expanded to include software engineers, QA specialists, design and operation managers, as well as experts in business development. Interestingly enough, all first hires were working in marketplaces and e-commerce businesses prior to joining randevu.tech
Since its inception, randevu has provided custom marketplace solutions to clients in Germany, UK, Australia, US and the rest of the globe, establishing itself as a reliable partner for businesses seeking to develop their own online marketplaces.
Ok, enough about the founder story. We can tell you more about it, just reach out to me via [email protected] or LinkedIn if you are interested :).
P.S. If you are planning to build a custom and complex marketplace you might be interested in 10 reasons to partner with randevu.tech vs building your marketplace from scratch