Built his first marketplace in the year 2000
In the world of online marketplace development, the story of Aleks, Founder and CEO of randevu.tech, stands out as an inspiring example of innovation and resilience. Aleks began his journey in the early 2000s, at a time when the concept of an online marketplace was still in its infancy. As a developer and architect, he created his first marketplace platform, a used car marketplace for a customer in Chile from scratch.
Over the next decade and a half, Aleks continued to grow his reputation as a seasoned technology leader by running his own IT consultancy company. Through this agency, he partnered with small businesses as well as major enterprises, offering tailored solutions for a wide range of industries. It was during these years that Aleks accumulated substantial experience in developing large-scale software solutions, catering to his enterprise clients' different needs.
Developed a scalable and secure banking system which got acquired for 200 million Euro
As his career progressed, Aleks sought new challenges. Leaving the familiarity of his agency, he ventured into the startup world, co-founding and serving as the Chief Technology Officer (CTO) of Penta, an innovative digital bank. Drawing from his extensive background in development, he built the banking technology from scratch and skillfully scaled the operation to serve thousands of satisfied customers. In his first two years, he built a team of 20 developers and over 5000 happy customers. Later, Penta went from becoming one of German's top Fintech startups to watch by Fintech Magazine to being acquired by Qonto for 200 million EUR.
Following the success of Penta, Aleks was presented with yet another opportunity: developing a marketplace solution for a unique vertical. However, as he delved into the project, he realized that he was facing some of the same challenges and limitations he has seen before. The existing solutions on the market were simply not flexible or developer-friendly enough for his needs.
Frustration turned into a solution 
Aleks first wanted to understand if his peers were facing the same challenges when developing a marketplace. He contacted dozens of marketplace founders and marketplace builders to understand their tech and business challenges. This journey clarified the pain of not only the developers but also the business stakeholders even more:
The existing solutions were not flexible enough
The incumbent enterprise solutions were very expensive
Building it with an in-house team from scratch was resource-demanding (team and money) and time-consuming (very slow)
Existing solutions failed to scale when needed
These pain points didn't only prevent some companies from developing a marketplace solution but also put projects at risk.
In search of a solution, Aleks turned to his friend, Filip, who was leading a tech team at SAP, working on a marketplace solution of their own. Filip wasn't only working for an incumbent tech solution to build marketplaces but also built his own marketplace from scratch. This made him deeply understand the problems of incumbent solution providers but also the challenges he has faced while building a marketplace from scratch. Filip isn't just a regular tech guy, he is also an innovator who has obtained several patents for his innovative work on some e-commerce solutions.
Sharing a mutual frustration over the inadequacy of the existing marketplace platforms, they decided to team up and create their own solution. This marked the inception of randevu.tech, a company dedicated to providing flexible, developer-friendly marketplace technology.
A bit later, I joined the team as the third cofounder, complementing the two tech experts with my business background and expertise. I have also founded and led a Berlin-based tech startup before and not surprisingly felt the same pain of developing a marketplace from scratch.
"When I first understood the painpoint Aleks and Filip are solving, it instantly resonated with me as I have faced the painpoints in my previous company myself." Shuhrat Ashurov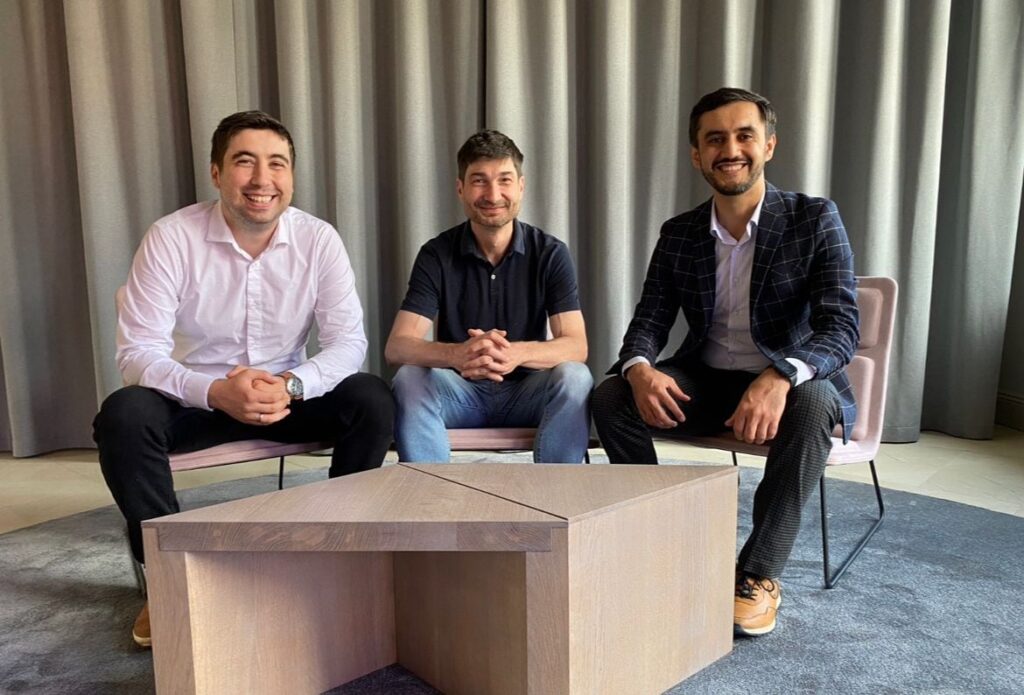 First Investment and expanding the team
The potential of randevu caught the attention of Antler, a global VC backing the world's most driven founders. Recognizing the value of randevu's vision, Antler selected them as one of their first investments in Berlin. Under the guidance and support of Antler, the randevu team expanded to include software engineers, QA specialists, design and operation managers, as well as experts in business development.
Since its inception, randevu has provided custom marketplace solutions to clients in Germany and across the globe, establishing itself as a reliable partner for businesses seeking to develop their own online marketplaces.
Ok, enough about the founder story. We can tell you more about it, reach out if you are interested :).
If you are an executive reading this and wondering why should I partner with randevu team to build up my marketplace technology, here are the top five reasons:
Top 5 Reasons to Partner with randevu to develop your marketplace solution
1. Leverage Core Technology: One of the key benefits of partnering with randevu is the opportunity to leverage our robust core technology. At the core of randevu's platform is a powerful and scalable workflow engine. This engine is designed to provide the flexibility and scalability that businesses, especially enterprises, need. It allows for the smooth integration of various systems and adapts to the specific requirements of your marketplace. Leveraging the core technology allows you:
Have accelerated development process. Imagine you're building a house. Instead of laying each brick one by one, randevu gives you pre-built walls with a strong foundation. All you need to do is put them together. In the context of developing a marketplace, this means you don't need to start from scratch. With Randevu's pre-existing building blocks, you can quickly assemble the key features and functionalities required for your marketplace.
Shorten your time to market. By using randevu's core technology, you significantly reduce the time it takes to launch your marketplace. Instead of spending months, or even years, developing every feature from scratch, you can deploy a functional marketplace in a fraction of the time. Randevu's technology shortens the time to market by at least three times, allowing you to get your marketplace in front of users quickly.
Generate revenue faster. Reducing the time it takes to launch your marketplace also means that you can start generating revenue sooner. In today's fast-paced business environment, getting to market quickly can be a significant competitive advantage. By partnering with randevu, you'll be able to start capitalizing on your marketplace sooner, allowing you to recoup your investment and start making a profit more quickly.
2. Reduce your Total Cost of Ownership (TCO). The total cost of ownership of developing any technology refers to all the direct and indirect costs associated with building and maintaining that technology over its lifespan. In the context of a marketplace solution, TCO includes not only the initial development and implementation costs but also ongoing expenses such as maintenance, updates, scaling, and support. So here is how partnering with randevu will reduce your TCO:
Lower Development Costs. By using pre-existing components, you can avoid the high costs associated with building a marketplace solution from scratch. Moreover, it also reduces your tech team size exponentially over time.
Simplified Maintenance. Maintaining a custom-built marketplace solution can be costly and time-consuming. Choosing randevu allows you to put this burden on us and let us host and maintain your solution. This reduces the burden on your internal resources and ensures that your marketplace stays up-to-date without incurring additional costs.
Easy scalability. As your marketplace grows and evolves, you may need to add new features or accommodate more users. randevu's scalable infrastructure and flexibility allow you to adapt your marketplace to meet changing needs without significant redevelopment costs. This flexibility minimizes the expenses associated with scaling and ensures your marketplace remains cost-effective as it expands.
3. Reliable and Tested. Our technology is not just innovative, it's also proven. By utilizing randevu platform, you are investing in a reliable and thoroughly tested solution. Our tech has been utilized in various industries, such as manufacturing and as well as a service industry, and has consistently delivered successful results:
TOOLPLACE, customer success story. Developed by industry experts in the plastic molding industry, TOOLPLACE is an innovative solution, connecting plastic molders with manufacturers. You can learn more about how randevu enabled them to go to market three times faster at half the cost from our customer success stories section.
AQUGA, customer success story. In the service industry, a group of SAP consultants aimed to build an online marketplace to connect businesses with SAP experts. They chose to partner with randevu due to our reputation for delivering reliable and customizable marketplace solutions.
4. One-Stop Solution. When building a marketplace, you need more than just a technology partner. You need a partner who can provide a comprehensive solution including design, development, and strategic advice. randevu offers precisely that, making us a one-stop solution for your marketplace needs:
Diverse Expertise. Randevu's team has expertise in software engineering, QA, design, business strategy, and more. This breadth of expertise ensures that every aspect of your marketplace is crafted to the highest standards, all under one roof. We can implement your entire marketplace, including frontend, backend, and operational applications, or can focus on specific aspects of your project.
Trusted Partner Network. If there are elements of your marketplace project that fall outside randevu's expertise, we have a network of trusted partners we can recommend. This ensures you have all the resources you need for a successful marketplace, without the hassle of searching for and vetting multiple providers.
5. Customer-Centric Approach and Support. At the core of our success is our commitment to putting our customers first. Every decision and action is driven by a focus on meeting the unique needs and objectives of each of our clients:
Dedicated Support. Building a marketplace is a complex process that can pose challenges along the way. Our team is dedicated to providing you with exceptional support at every stage of your journey.
Post-Launch Assistance. The support doesn't stop once your marketplace is live. We continue to provide post-launch assistance to ensure the smooth operation of your marketplace and help address any issues that may arise.
Our unique approach to efficiency and cost saving, coupled with our robust technology and dedicated team, makes us the go-to choice for businesses seeking to develop and scale their own marketplaces.
We would love to hear from you. Reach out to us to learn more or ask any questions.